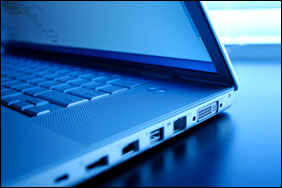 Getting people to find and visit your site is a must if you are going to succeed on the Internet.
We can help with any of the following and more...
Get your own domain name. Having your own domain name is the only way to look professional. It is not in your best interest to host your site as a sub-domain of another site.
Put your domain name on everything. You should put your domain name on all of your printed documents including business cards, flyers, brochures, mailing labels, letter head, etc.
Tag your web pages. You should tag each page within your site with a description and a list of keywords that describe each page.
Submit your web site to search engines. About 90% of the traffic you will see from search engines will come from the top 3 search engines: Google™, Yahoo!®, and Bing™. It is important to optimize your pages to rank as well as possible.
Notify your current customers about your web site. The simplest way to generate some traffic to your site would be to notify your current customers. Your customers are your best prospects for repeat business and will give feedback on how to improve your website.
Create E-Mail lists. You can create an email list to help keep your company in contact with your customers. Your customers can get on or off the list with a simple online form. The best part is that you spend virtually no money to send your customers a message. It is important to note that SPAMMING (sending unsolicited email) is not an ethical business practice.
Use Auto-Responders. You can use auto responders to immediately send a response to customers who contact your company via email. The automatic response is fully customizable, and is usually used to inform your customer that you have received their message and that you will provide a personalized response soon.
Stay Dynamic. Keep your website exciting by constantly updating it with new information and images relating to your products or services.
Create Strategic Links. With a little research, we can find places on the internet that would make sense for you to advertise or create a link back to your site.
Analyze Usage Reports. Once your site has been up and running for a while and you have had a few visitors, it is important to analyze where these people are coming from, then you can focus your time and energy on what you know is working.
Promote your web site through traditional marketing efforts. You must remember that your web site will never be found unless you promote it. It is a myth that you can simply create a web site and people will beat your door down. Your web site is a cost effective way to improve marketing to current customers; however, you must promote your site to get people to visit.
Should I Design My Own Website?:
A website can make a small business look big. Should you do it yourself or hire a pro?
Whether you run a small home-based business or are a Fortune 100 Corporation -- if you don't have a web site, you might not be marketing your message in the most effective way.
Creating a web site yourself can be as easy as using a word processor. With programs like Microsoft Expression Web, almost anyone can create a basic web site that provides static information for your customers, such as how to contact you and answers to frequently asked questions. Full scale sites that are interactive, dynamic, and professionally designed, however, can be considerably more complex.
I Want to Create the Site Myself
The first thing you are going to need is a web presence provider (WPP). While some online services, like Comcast and AOL offer subscribers free web space, there are many drawbacks: you may be required to place advertising on your site, you will not have your own domain name, you will not be allowed to sell products, disk space will be limited, and response time is below average.
You are going to need your own domain name, such as www.yourcomany.com. Anything else seems unprofessional. Plus, you get the added advantage of reserving your name forever. You had better hurry though, as finding an available domain name gets harder every day!
Carsley & Associates can help you find an available domain name, register it, and get your site hosted on the web.
You will need web design software that enables you to create a dynamic Web site. We recommend Adobe Dreamweaver or Microsoft Visual Studio Express for Web. These tools provide a visual means of creating and uploading your website. Adobe Acrobat is also great for providing standard format downloadable documents. If you have an interest in creating your own graphics, then Adobe Photoshop and PaintShop Pro are popular packages.
You will need to determine if you have the skills, creativity, and time required to design the site. Designing a web site from scratch, and having never done it before, can be very time consuming.
Among the features that could be important to you are e-mail services; secure credit card transaction tools; submission of your site to major search engines for indexing; support for hit counters, statistics and forms that enable your customers to request information or order products; and bandwidth. Carsley & Associates can help you with all of this.
I Want to Hire Someone to Design My Site
Hiring a web designer to complete your web site can save you a vast amount of time. We recommend that you find a web designer that can provide a complete of range of services, including web hosting, web design, web marketing, web administration, and e-commerce.
Carsley & Associates offers a complete range of the above services.
Typically, costs start at about $3000 for a small 10 to 15 page business site, depending on the project. Most projects are billed by the hour. The hourly rates of designers can vary widely; we recommend you look closely at what the designer has done previously and how long it took to finish the project. Many of our own customers have switched to Carsley & Associates because "Work By Night" web designers with a day job couldn't finish the job quickly enough.
Carsley & Associates even has solutions for sites with dynamic content. If you expect frequent changes, we can create a web infrastructure that allows multiple people to add and change the website's content.
For more information on our web design service, see Web Design.
You may also be interested in: