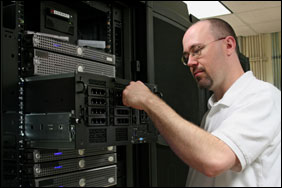 Are you tired of those "self-serve" web hosting companies where you have to do everything yourself?
If what you are looking for is a complete Internet business solution which includes maintaining the site once it is up and running, then Carsley & Associates is the company you have been searching for.
We offer many services not normally found elsewhere...
Our engineers maintain dedicated web, application, and database servers. Administering a dedicated server requires someone with a broad range of experience and knowledge. We can save you time and money by filling this role as needed. Services include managing the entire virtual and clustered server environment, digital certificates, managing user and ftp accounts, managing IIS, installing, upgrading and updating software, monitoring and tweaking performance, managing SQL Server, etc.
Planning for future bandwidth and hardware upgrades can play a major role in the success or failure of your site or application. Hosting and managing Software as a Service (SaaS) applications and web sites is routine for our experienced engineers!
Carsley & Associates has been hosting and managing web, application, and database servers for our customers for two decades. The services span from web services, cloud files, SaaS applications, database servers, and Point to Point networks and VPN's with our large billion dollar customers! We keep current on new web hosting technologies to keep our customers abreast of continuous improvement opportunities to streamline processes and save your staff time or improve your end user experience. We are constantly evaluating new products and technologies that can be beneficial to our clients.
You may also be interested in: